News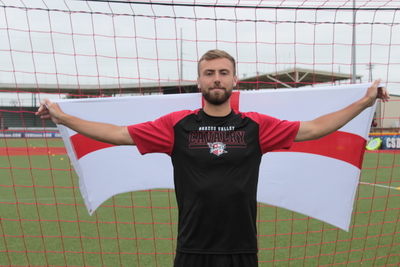 BRYAN-COLLEGE STATION, Texas — Soccer players from around the world have gathered in the Brazos Valley to learn from each other and play at an extremely competitive level for the summer.
Made up of players from 10 different countries, the Brazos Valley Cavalry FC is looking to make its mark on the upcoming season by combining different international viewpoints into one unified team. After not competing in the summer of 2020 due to COVID-19, the team is back and ready to use each of its players' unique backgrounds to find success.
Because the Cavalry players come from all over, each member of the roster has had a different experience growing up with the game of soccer. Some, like French attacking wing Antoine Recizak, played for international private schools to refine their gameplay. Others, such as Jamaican forward striker Ronaldo Brown, said they were given less of a chance to succeed.
"It's very difficult to play soccer in Jamaica," Brown said. "We didn't get a lot of opportunities, so we'd have to play soccer in the street. The sport is just not a priority there."
Even with these differences, each member of the Cavalry shares one defining trait — passion.
"I want to play this sport until my body can no longer sustain itself while running or kicking a ball," Recizak said. "That's the ultimate goal in my life."
This passion is a focal point in all Cavalry players' lives. For centre-back Connagh Wilks, soccer has been influencing him since the day he was born in London.
"Soccer is just a part of the culture in England," Wilks said. "You wake up, and the first thing you do is kick a football. This has been what I've lived and breathed for my entire life."
Many players come to the U.S. in pursuit of educational and career opportunities. Goalkeeper Nolan Premack, hailing from Vancouver, Canada, said this is what drew him to hit the turf in the states.
"I left Canada so I could come to school here in America," Premack said. "I got recruited to play soccer here while still getting my degree to try and go to medical school. I've been really blessed with that."
For others, the move to America had little to do with soccer or college and instead centered around personal values important to the players. Left winger Fernando Flores from Monterrey, Mexico, is a prime example of this.
"My mom moved to America, so I decided to come here with her," Flores said. "Wherever my mom goes, I go. She's the reason I do what I do."
Regardless of the reasons why each player came to America, they have all found their place as an essential member of the Cavalry. For midfielder Gifhano Lubaki, coming from The Democratic Republic of Congo, this means playing for a diverse team which fosters growth and development.
"That's honestly what excites me," Lubaki said. "It makes me eager to come to practice every day. As I'm working toward earning a [professional soccer] contract, having a team of players from different countries helps me get used to that environment early."
Brazil-native Eduardo Bonatto said this influences the team's playing styles at practice, forcing players to make adjustments and learn on the fly.
"We have so many different styles of playing on the team," Bonatto said. "You just have to accomodate to the different gameplays on the same pitch. It works out because we're a unified team."
These differing playing styles actually come with an advantage for the team, said Recizak. Cavalry members are given the opportunity to develop themselves further than they could if playing only with others from their home country.
"It's always cool to see how different players play the game of soccer differently according to where they're from," Recizak said. "You learn so much about yourself and the sport. I've played with and against people from all over the world for my entire life, and it's still an amazing experience today."
With all of these different experiences coming together to form one unified team, players have the chance to represent their heritage and country affiliation on the pitch. Defender Ognjen Stevic, who is joining the Cavalry from Beograd, Serbia, said he is proud to be a symbol for a country not often seen in American soccer.
"I love that I get to represent my country," Stevic said. "Not many people get the chance to do this, so it's cool to be the guy that gets to do that for Serbia."
Wilks echoed this sentiment, noting the importance of doing his country justice by performing to the best of his abilities.
"It feels good to represent England," Wilks said. "It's nice to have something that makes you different and stand out from the crowd. I'm looking forward to being a role model, as a dedicated competitor, for my country back home."
This success is not without its difficulties, however. For most players coming from outside the U.S., playing in America means completely rewiring the way in which the athletes compete on the turf. Fiorini said he especially sees this in the strategic differences in how soccer operates between the countries.
"In Italy, soccer is more about being tactical and clever on the field," Fiorini said. "Here in America, things are very different. You have to be strong and get really physical. That's a huge change to make."
In typical Cavalry fashion, Bonatto said the players are up to the task. He promised they are willing to do whatever it takes, even if that means enduring extra hardships to succeed.
"You have to adjust everything," Bonatto said. "Your mindset, the way you practice, the way you treat your body. You have to go even more to the extreme. We're doing that every single day."
The American-born players on the team are extremely thankful to have the international men joining the roster, New Jersey resident Michael Meija said. Because players that grew up in America are playing a version of soccer they are more comfortable with, they can instead look to support and learn from their teammates coming from around the world.
"Having international players join us has really opened my eyes," Meijas said. "It's a new experience that will help the entire team. I'm learning more and more every day. That's the beauty of this game."
This year is shaping up to be the most competitive season in Cavalry history. Brown said he is excited to see what the multinational team is able to accomplish once they come together and become a solidified unit on the field.
"I want us to go out there to compete and win," Brown said. "That's what we're all here to do. Even though we're from all over the world, we just have to stay together as a group, work hard and get it done. This is going to be an awesome season."