News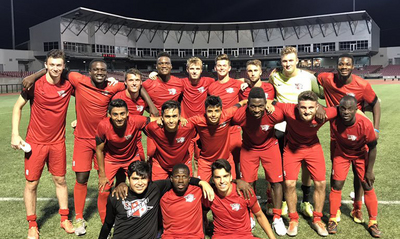 Bryan/College Station, Texas (June 15, 2017)-The Cavalry Football Club traveled to Dallas to take on in-state rival, Texas United, and came away with a 2-1 victory.
Texas United got off to a quick start and generated most of the offense within the first 12 minuities of the game, Fetterly and the Cavalry defense held strong and turned it to thier offense to get two shots on goal within 6 minutes of play.
In the 28th minute of the match, attacker Rimario drew a penalty in the box and scored on the ensuing shot giving the Cavalry a 1-0 lead.
Right before half Emmanuel Usen drew a penatly and executed the the Penatly Kick to put Brazos Valley up 2-0 going into the half.
The Cavalry defense dominated the majority of the second half and allowed the offense to get more quality chances.
Texas United scored on a well executed free kick in the top corner just over the outreached hands of Cavalry goalie James Fetterly. However the Cavalry would hold on to claim their third victory of the season, putting them just three points behind Mississippi Brilla FC for the second spot in the Mid South Division
For tickets and information on how to see the Cavalry in their inaugural season, please call (979) 779-PLAY, or go to bvcavalryfc.com To follow all upcoming news and developments for the Brazos Valley Cavalry, follow or like us on facebook.com/bvcavalry, and follow us on Twitter: @BVCavalryFC and Instagram: bvcavalryfc