News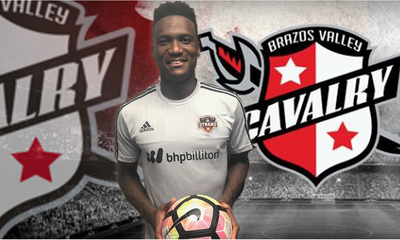 Bryan/ College Station, Texas (June 22,2017)- The Cavalry FC hosted Houston FC Thursday night in an interstate PDL matchup. Brazos Valley entered the match with a (3-0-4) overall record. Houston FC entered play with a (2-0-6) record.
The scoring started early for the Cavalry as,Elo Ozumba put the first goal of the game on the board at the 2 minute mark, giving Brazos Valley an early 1-0 advantage.
The Cavalry continued to pressure the FC goalkeeper and had sustained possession for a majority of the first 10 minutes of play.
At the 16 minute mark, Matt Dorsey scored on a perfect low cross over from Roberto Hernandez to give Cavalry FC a 2-0 in the first half of play. Brazos Valley would take that 2-0 lead into the halftime break.
During the 65th minute of the match, Ozumba noticed his second goal of the match with an assist by Andre Rivers Hardware, giving the Cavalry a 3-0 lead.
With help from his defense, Alex Fetterly stood tall in the net for Brazos Valley totaling 4 saves throughout the match.
In stoppage time, the Cavalry offense was not finished as Ozumba recored his third goal of the night, and his first hat-trick of the season. This gave Cavalry FC a 4-0 victory over Houston FC.
There was no surprise as Ozumba was named Cavalry Court Man of the Match with his hat trick on the evening.
The Cavalry turn around and play Texas United at 7:30pm right back at Nutrabolt Stadium.
For tickets and information on how to see the Cavalry in their inaugural season, please call (979) 779-PLAY, or go to bvcavalryfc.com To follow all upcoming news and developments for the Brazos Valley Cavalry, follow or like us on facebook.com/bvcavalry, and follow us on Twitter: @BVCavalryFC and Instagram: bvcavalryfc