News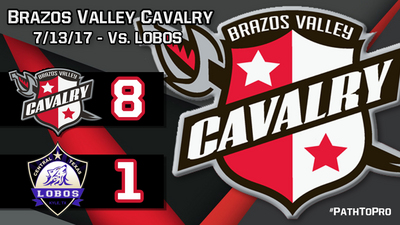 Bryan/College Station, Texas(July 6,2017) - The Cavalry FC hosted their first ever friendly match against the Monterrey U20 Rayados. The Rayados traveled from Mexico to play the Cavalry.
The Rayados jumped out to a quick 1-0 lead when Javier Ibarra buried a shot on the bottom left corner of the net in the second minute of the match.
Rayados kept up a solid defensive stand for the first half but only allowed one shot on goal. After great defense, the Cavalry looked to equalize.
After giving up the early goal, Cavalry goalie Pedro Medrana was solid the rest of the night keeping the Rayados off the board for the remainder of the game, making five saves throughout the match. The score would remain 0-1 going into the second half.
The Cavalry started the second half off strong on defense, keeping Monterrey away from goalkeeper Medrana. The offense really picked up as the Cavalry recorded 3 shots in the early minutes of the second half.
The offense would wake up in the 80th minute of the match with Rimario Gordon placing a beautiful through ball to Layee Kromah for a break away goal.
Kromah recorded his first appearance for the club and made the most of it by scoring his first goal.
The game sped up in the second half leading to some rough defense on both sides. Rimario Gordon and Gilles Nziengui both picked up yellow cards in the 65th and 69th minute.
The Rayados would end up making a mistake and fouling Rimario Gordon in the box for a penalty in the 85th minute.
Heriberto Soto stepped up for the penalty and sinked it in the bottom left hand corner of the net to take the 2-1 lead.
The Cavalry went on to play firm defense and secure their 7th win on the year.
Brazos Valley will play the Mississippi Brilla FC on July 8th as they look to make a run at the PDL playoffs where they currently stand in 3rd place in the table.
For tickets and information on how to see the Cavalry in their inaugural season, please call (979) 779-PLAY, or go to bvcavalryfc.com To follow all upcoming news and developments for the Brazos Valley Cavalry, follow or like us on facebook.com/bvcavalry, and follow us on Twitter: @BVCavalryFC and Instagram: bvcavalryfc