News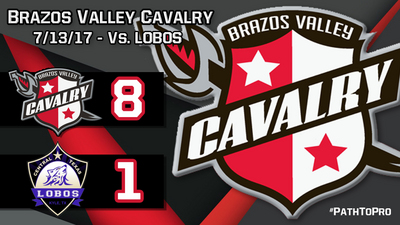 Bryan/College Station, Texas(July 13, 2017) – The Brazos Valley Cavalry FC ended their inaugural season with a 8-1 victory against the Central Texas Lobos.
With the Cavalry coming up just short of making the PDL Playoffs, it didn't ruin their mindset about their last home game. The team went on to a remarkable 8-1 win against the visiting Central Texas Lobos.
Concluding their second friendly, the team has no reason to hang their heads. With this being their inaugural season, Manager James Clarkson showed some promise for next season.
Cavalry Court Player of the Match Elo Ozumba went on to record his second hat trick of the season, by scoring 4 goals in tonight's friendly.
To begin the night, the Cavalry started off with a strong attack, missing some early attempts at net.
Ozumba was all over the Lobos defense early on but wasn't able to find the bottom of the net until the 14th minute after 5 attempts.
Antonio Augusto was able to score in the 27th minute thanks to a beautiful assist from Robert Hernandez.
To finish off the first half, Elo netted 2 more goals, both in the 45th minute.
To start the second half, the Lobos were able to get the Cavalry's defense to make a crucial error by giving up a penalty. Jordan Guardano picked up the goal in the 50th minute.
The Cavalry were able to recoup and pick up two goals in the 71st and 82nd minute by Heriberto Soto and Jessie Ortiz.
To end off the night, Jessie Ortiz picked up his second goal and Elo Ozumba scored his 4th goal of the night to end the game 8-1.
The win improved the Cavalry to an overall record of (8-1-6) on the year. The Cavalry will conclude their season against FC Cleburne on Saturday, July 15th.
For tickets and information on how to see the Cavalry in their inaugural season, please call (979) 779-PLAY, or go to bvcavalryfc.com To follow all upcoming news and developments for the Brazos Valley Cavalry, follow or like us on facebook.com/bvcavalry, and follow us on Twitter: @BVCavalryFC and Instagram: bvcavalryfc